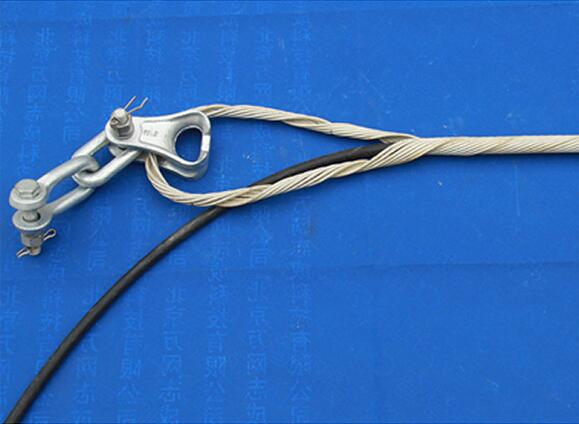 Tension clamp classification:
According to the structure and installation conditions, the tension clamps can be roughly divided into two categories: ** tensile clamps must withstand the full tension of the conductors or lightning conductors. The grip strength of the clamps is not less than the rated resistance of the installed conductors or lightning conductors.we are preformed dead end grip suppliers.
Pulling 90, but not as an electrical conductor. This type of clamp can be removed after the wire is installed and used separately. This type of wire clamp has a bolt type tensile clamp and a wedge type tensile clamp.
Pre-twisted tension clamp features:
A clip has high strength and reliable grip. The grip strength of the clip is not less than 95% CUTS (the twisted wire calculates the breaking force).
The stress distribution of the twisted wire of the B wire clamp is uniform, and the twisted wire is not damaged, which improves the anti-vibration capability of the twisted wire and greatly prolongs the service life of the wire.
C Easy to install and easy to construct. It can greatly shorten the construction time and can be operated by one person without any special tools.
The installation quality of the D-clamp is easy to guarantee and can be inspected with the naked eye without special training.
E Corrosion resistance is good, use high quality materials. The material is exactly the same as the wire, ensuring that the clamp has strong resistance to electrochemical corrosion.
Installation Notes:
1. The OPGW cable tension clamp is used in connection with the terminal tower, the tension tower and the connecting tower. The specific configuration is: 1 set of terminal tower / 2 sets of towers for pole towers / 2 towers of towers / 2 towers of continuous towers.
2. The tension clamp is selected according to the cable diameter and the rated breaking force of the optical cable, so the user can select the appropriate tensile clamp according to the selection specification table.
3. The grounding clamps are ordered with the tension clamps. It is not allowed to install the grounding clamps directly on the inner or outer pre-twisted wires of the tension clamps.