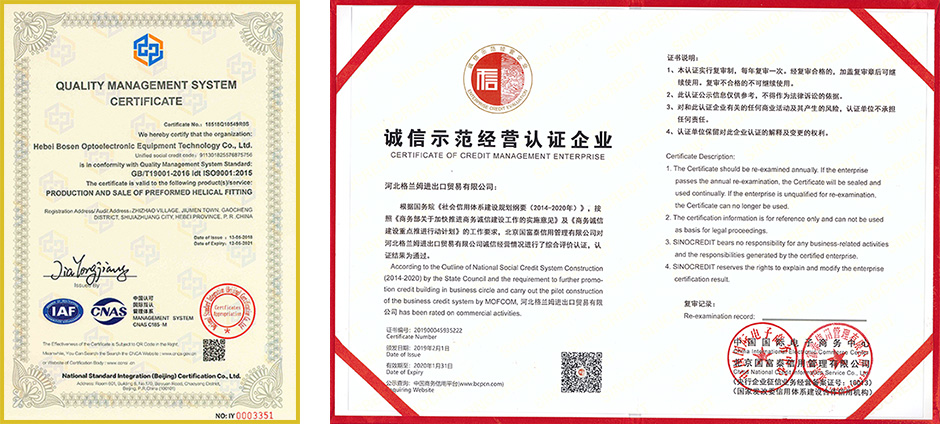 Hebei Glame Import and Export Trade Co.,Ltd. is a professional manufacture and sales enterprise which develop, exploit, manufacture and sale Preformed tension clamp/armor rods equipment, ADSS & OPGW Preformed fittings,electrical Preformed fittings for Transmission & Distribution line and electrified railway fittings. There are multiple sets preformed fittings production line,with annual production capacity millions of sets.Professional production OPGW、ADSS、OPCC preformed dead end grip、Preformed suspension clamp,cables、earth wire、guy wire used Preformed dead end grip,Preformed suspension clamp,Preformed splice fittings,Protective fittings etc.The same time provide Vibration damper,Spiral vibration damper,Joint box,Terminal box, Cable margin supporter,Downlead clamp,connect earth wire,Pole/tower fasten clamp etc.They are widely used to the electrical transmission and distribution lines,fiber optical cable lines,telecommunication lines,electrification line,subway stations etc.

Our company is located in Shijiazhuang,the capital city of Hebei,circum Bohai Bay Economic Zone,on the verge of capital Beijing and Xiongan New Area,have plant area 100 acres,senior and medium engineer 30 people,the same time have multiple high precision production equipment.The products are exported to Europe, America, Asia, Africa and Oceania etc. many countries.
Our company strictly implementation ISO 9001:2008 quality management system,pursues the principles"Quality first,Honesty first",with the first-class technology,perfect pre-sales and after-sales service guarantee system,service for you with all sincerity.Welcome to old and new clients from the domestic and international visit and negotiations business with us,let us work together to create a beautiful future.we are preformed ADSS dead end grip for sale suppliers and we are provide downlead clamp for ADSS,preformed ties for cables,you can know it.