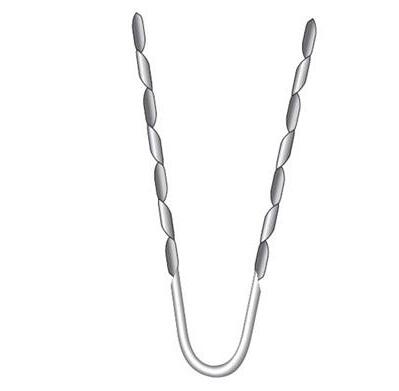 Uses: Anti-vibration hammer is mainly used on ADSS cable, OPGW cable and power overhead wire to eliminate or reduce the vibration generated by the wire and cable under the laminar wind to prevent damage to the clamp and cable.we are preformed dead end grip for sale and the best preformed dead end grip for sale,you can know it.

Features: The anti-vibration hammer adopts the Haro structure design, the size of the hammer head is slotted in the middle, the joint between the steel strand and the hammer head is exposed, the fatigue damage of the steel strand can be observed, and the hammer head is not restricted, and the steel strand is not worn. Line, and can obtain several resonant frequencies, suitable for cable with a cable diameter of 9.5mm~27mm (the diameter of the cable that can be clamped including the retaining line).
Composition: Hammer joint steel strand is made of refined steel strand, the protective line is aluminum alloy line, and the streamlined shape can effectively control corona.
Adss tensile clamps: It is to fix the adss cable to the hanging point of the corner, tensile and terminal towers. The breaking load of all kinds of tensile members is not less than the calculated breaking force of the cable.
The pre-twisted wire type tensile fitting has the advantages of uniform stress distribution, no stress concentration point, good dynamic stress bearing capacity and good anti-corrosion performance.
The most advanced production process and machining equipment in China. The machine is fully automatic coated with rubber-coated steel grit, uniform and non-dead-angle hot-dip galvanized joint fittings, tensile and corrosion resistant.
National standard aluminum alloy groove clamp. (opgw matching grounding wire) adjustable connection hanging plate, convenient adjustment and installation. [Optional] The grounding wire adopts the national standard multi-strand aluminum-clad steel stranded wire. It has strong electrical conductivity.