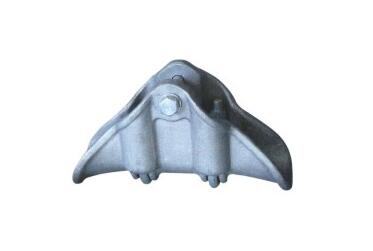 Suspension clamps are the main force of overhead power lines. Their main purpose is to fix the wires on the insulator strings, or to suspend the lightning protection line on the linear tower. It is easy to use on the transposition tower to support the transposition conductor. There are countless types of jumpers on the corner bars and corner towers.we are provide fiber optical cables preformed suspension clamp,you can know it.We can guarantee the quality of fiber optical cables preformed suspension clamp.

So there are so many types of overhanging clips. Do you know several kinds? Let's see a few of the things I know:
First, with a bowl hanging plate hanging line clip fittings:
1. The suspension insulators used for the suspension insulator strings of the linear towers on the 1I0-220kV transmission line are generally of the XP-7 type.
2. Install the WS-7 bowl head hanging plate for XI'-70 insulator on the suspension clamp, which not only shortens the length of the insulator string, but also reduces the bending moment of the hanging plate.
3. The clamp can be directly connected to the XP-70 insulator or to other ball and socket insulators with a nominal diameter of l6.
4, the addition of the bowl head hanging plate suspension clamp is suitable for the installation of large-section steel core aluminum stranded wire and steel core aluminum wire wrapped with pre-patterned retaining lines.
Second, U-shaped screw type suspension clamps:
1. It consists of a wire hull made of malleable cast iron, a pressure plate and a U-shaped screw.
2. It uses two U-shaped screws to press the pressure plate to fix the wire in the hull. The hull is suspended by two steel plate stamping plates. The hanging plate is mounted on the hanging shaft on both sides of the hull. The wire is on the same axis and the rotation is flexible.
3. Since the hanging plate has a certain width, if the hanging plate swings too much, the edge will hit the U-shaped screw, so the swing angle between the hanging plate and the hull should be no more than 45 degrees.
4. The U-shaped screw type suspension clamp has a large grip force. It is suitable for installing medium and small section aluminum stranded wire and steel core aluminum stranded wire. When installing, the wire should be wrapped with 1 x lOmm aluminum strip with 1-2 layers.
Looking forward to the future, our factory strengthens enterprise management, continuously advances technological progress, adjusts product structure, and serves China's modern electrical industry with better products and perfect after-sales service.
We adhere to the "integrity-based" corporate philosophy, adhere to the sincere service to customers, and sell to the market at reasonable prices. Here we warmly welcome friends from all over the world to cooperate with us, visit, inspect and negotiate business.