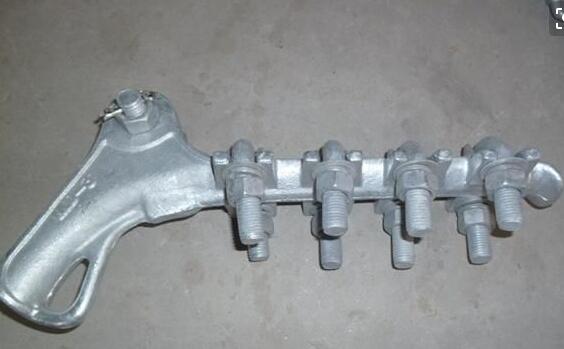 (1) Bolt type tension clamp, which is used to fix the wire on the tension-resistant corner tower insulator string, and is suitable for fixing small and medium-section wire.we are provide dead end grip and PVC plastic ties for sale,you can know it.

(2) Compression type tension clamp, one is to fix the wire on the tensile insulator string and is suitable for the large section wire, and the other is to fix the ground wire on the tension bar.
(3) Wedge type tension clamp, fixing the ground wire on the tensile rod.
(4) Insulation tensile clamp, tension-resistant clamp with insulation cover.
Tension clamp characteristics
1) The clamp has high strength and reliable grip. The grip strength of the clip is not less than 95% CUTS (the twisted wire calculates the breaking force).
2) The stress distribution of the twisted pair of the clamp is uniform, and the strand is not damaged, which improves the anti-vibration ability of the strand and greatly prolongs the service life of the wire.
3) Simple installation and easy construction. It can greatly shorten the construction time and can be operated by one person without any special tools.
4) The installation quality of the clamp is easy to guarantee and can be inspected with the naked eye without special training.
5) Good corrosion resistance and high quality materials. The material is exactly the same as the wire, ensuring that the clamp has strong resistance to electrochemical corrosion.
Since its inception, the company has always adhered to the "people-oriented" business philosophy, "excellence, continuous improvement" professional style, and constantly strengthen product quality technology research and development and new varieties of development, consistently adhere to excellent quality, honest reputation, perfect service And reasonable prices to expand domestic and foreign markets,
Survive and seek development in the fierce market competition. Companies in the "quality one, the credibility of the supremacy" business purposes, open sales channels, and sincerely pay domestic and foreign merchants.