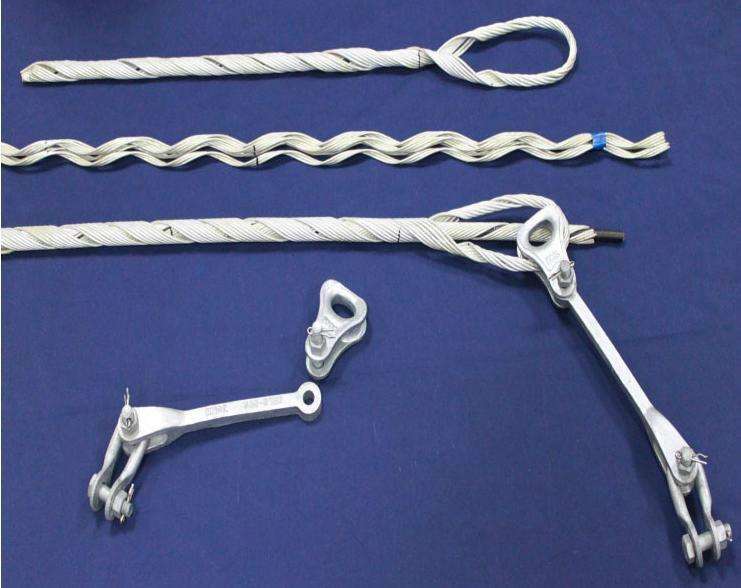 The mechanical characteristics of the ADSS tensile clamp:

Pre-twisted wire-----made with aluminum-clad steel stranded wire, the inner wall of pre-twisted wire is adhered with a layer of diamond silicon carbide to increase the friction.we are provide preformed tension clamp,you can know it.
The pre-twisted wire is pre-formed into four beamlets during factory processing, avoiding installation errors and facilitating quick installation. The end of the pre-twisted wire is bent radially outward to prevent damage to the cable.
U-shaped hanging ring ---Hot-dip galvanized steel U-shaped hanging ring, which plays the role of connecting with the tower fastener.
PD hanging board ---hot-dip galvanized precision cast PD hanging board, which plays the role of connecting the U-shaped connecting ring and the U-shaped hanging ring, and avoids the fiber-optic cable exiting the tower at the exit of the tensile clamp Too close to ensure that the cable has a large enough bend radius.
Inlay--The hot-dip galvanized precision cast steel inlay is clamped in the U-shaped bending head of the tensile clamp to protect the tensile clamp and extend the connection.
The company will continuously improve the quality of its personnel and continuously improve its product quality and service quality to meet the needs of enterprise management and international standards, provide users with a full range of services, and promote the continuous development of power fittings.