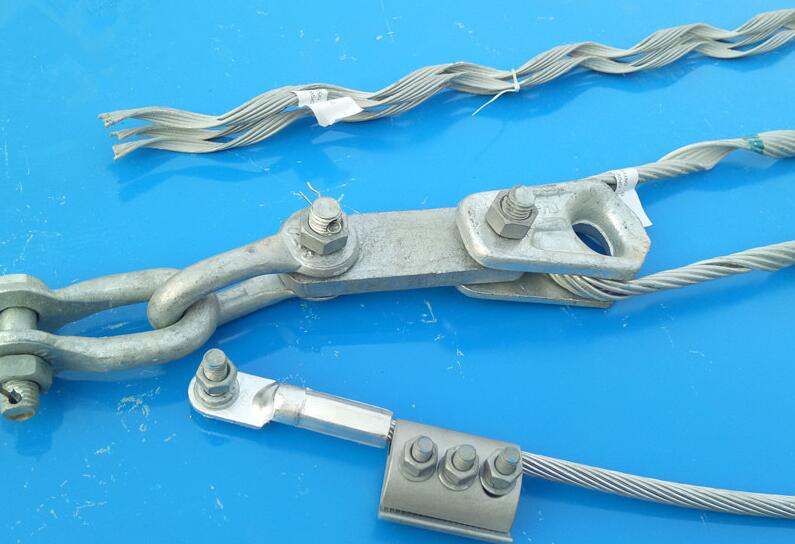 Use: To withstand full tension. Connect the adss cable to the terminal tower, the tension tower, and the cable splicing tower.we are provide dead end grip you can know it.

Features:
a.The outer stranded wire is directly connected to the tower through a coupling fitting such as a ring to withstand the line load.
b.The internal skein has a certain protective effect on the adss cable. As the force transmission unit, the main functions are:
(1)Effectively transmit the longitudinal pressing force to the tension receiving unit of the cable to aramid to prevent the outer sheath of the cable from being strained due to excessive force.
(2)Transfer the axial tension.
(3)Increase the contact area with the optical cable to make the stress distribution uniform and no stress concentration point.
c.Under the premise of not exceeding the side pressure strength of the adss cable, the cable has a large holding force and can withstand a large tension.
d.The holding power of adss cable is not less than 95% of the ultimate tensile strength (uts) of the cable, which is completely suitable for the needs of cable erection.
e.In order to meet the needs of erecting adss cable on the 10kv distribution line of the city network, our company has developed and produced a tension clamp with a grip of 15kn. It has a simple structure, convenient installation and reduced construction cost.
The quality is stable and reliable, the price is reasonable, and the after-sales service is timely, which is highly praised by users.