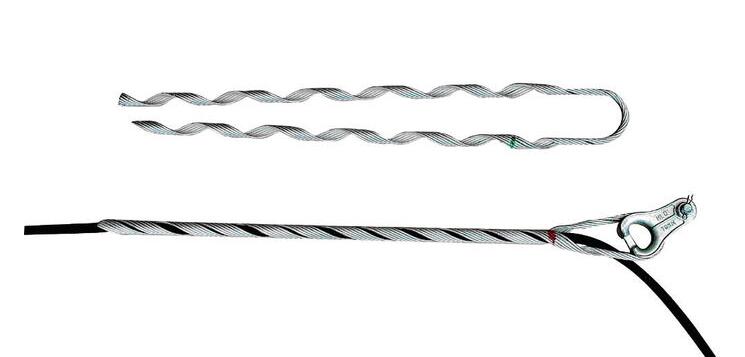 ADSS tensile clamp function: Connect the ADSS cable to the terminal tower, the tension tower or the cable connection tower. The holding force of the ADSS cable is not less than 95% of the ultimate tensile strength (UTS) of the cable. This clip is developed by our company to meet the requirements of erecting ADSS cable on the 10KV power distribution line of the city network. The grip strength is not more than 15KN.

Compared with other traditional forms of metal fittings, the structural pre-twisted fittings have their own unique features: Strong anti-fatigue performance; easy and quick installation, strong consistency; high efficiency and energy saving; wide adaptability and good anti-corrosion performance.we are preformed dead end grip suppliers.
1. Pre-twisted wire tensile clamp: ADSS cable, OPGW cable, various types of wires for transmission lines, cable, ground wire, etc., tensile clamp, it is widely used in optical cable lines, transmission lines and poles, mainly It is used in connection with the terminal tower, the tension tower, the connecting tower, and the pole with a corner greater than 25 °C. The tensile strength of the cable can be coupled with the V-bolt and the ground anchor.
2. Pre-twisted suspension line clamps: ADSS optical cable, OPGW optical cable, transmission line various types of conductors, ground wire and other suspension clamps, it is widely used to connect ADSS, OPGW, wire, ground wire and linear pole tower, corner pole tower, line The clip can reduce the static stress of the cable at the suspension point, improve the anti-vibration capability of the cable, overcome the dynamic static stress of the wind vibration, ensure the allowable bending radius of the cable, and reduce the transmission loss of the signal in the cable. Single-layer tension clamps Uses: ADSS single-layer tension clamps, similar to the tensile clamps.
Pre-twisted tension clamp clamp installation notes:
The product is a disposable product with special functions. The main part of the product cannot be changed during use. When working on or near the live line, safety should be taken to prevent electric shock. Before installing this product, select the appropriate resistance according to the wire specifications of the line. Tension clip Products should only be operated by trained and skilled workers, and untrained personnel should not operate; the direction of the clamp should be consistent. The standard tensile clamp is generally right-handed; the tensile strength of the wire and the ground resistance are not mixed.