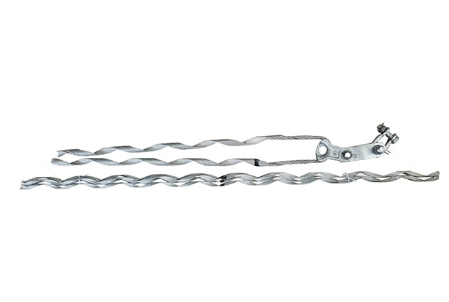 High strength: the clamp has an extra length of the twisting, which ensures that the gripping force can reach the rated breaking force of the ground wire by more than 95%.

Our company is preformed dead end grip manufacturer.
●Good corrosion resistance: the material is completely consistent with the ground wire, which can prevent galvanic corrosion between the wire clamp and the ground wire.
●Easy to install: all kinds of clips can be operated on the spot quickly and easily, without any special tools, and can be operated separately;
The installation quality is easy to guarantee: the consistency is strong, the naked eye can be inspected, and the appearance is simple and beautiful.
use:
Fixation of a tensile tower for overhead line grounding.
Characteristics
The grip of the T-clamp will not be less than 25% of the rated breaking force. Because they are used in loose span lateral or continuous wire connections, mechanical force requirements do not exceed
25% of the rated breaking force;
The conductivity of the T-clamp is designed to reach 100% of the wire.