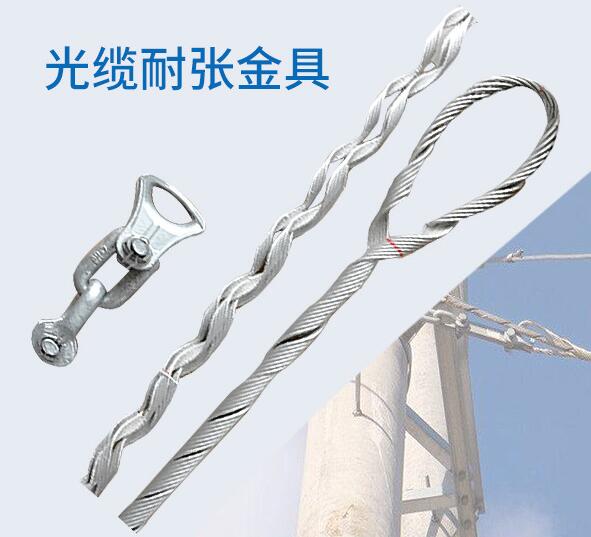 At the end of the anchor line, leave a cable that meets the length, the length is the tower height plus 10 meters, and then the tensile clamp is attached to the side of the line to be tightened.we are preformed dead end grip suppliers and the best preformed dead end grip suppliers.

As long as the tension cable of one tension section is the same as the general line tension line; when multiple tension sections are not broken, the tight line method from far to near should be used: that is, the farthest from the tight side After the section, mark on the second base-resistant tower, and install the tensile-resistant fittings on the tightly lined side and hang the line, then relax the tension on the tight side, take out the pay-off pulley, and install the line-by-line tower. Suspend the fittings and grounding wire, and leave the fiber optic cable on the tension tower (1.2 times the width of the cross arm), then install the pre-twisted wire tension clamp on the wire side and hang the wire, then tighten the next one. Zhang Duan, and so on.
Features:
1)High strength: each wire tensile clamp has a pre-intersection length of the frontal yoke, so as to ensure that the strength can reach 95% of the rated tensile force (R.B.S) of the wire.
2)Good corrosion resistance: the material and the wire are completely consistent, thus ensuring strong corrosion resistance
3)Simple installation: the clamp can be installed on site quickly and easily, without any special tools, and can be completed by one person.
4)The installation quality is easy to guarantee: the installation quality of the clamp is easy to guarantee, the consistency is strong, no special training is required, the inspection can be carried out with the naked eye, and the appearance is simple and beautiful.
5)Strong versatility: can be used with a variety of hardware
6)Sufficient gripping force: The clamp has a strong twisted ring, which can provide enough grip for steel core aluminum stranded wire, aluminum stranded wire, aluminum alloy stranded wire, etc., and has a larger suitable wire size range.
Tension clamp characteristics
(1) High strength: Each cable clamp has an additional length of twisting, which ensures that the clamping force can reach more than 100% of the rated breaking force (RBS) of the cable; the universality is strong: it can be used with a variety of fittings (details) See the installation instructions). The large wire clamp and adjustable cable clamp can be used up to 1.001 inches (25.4mm, ie, the cross-sectional area is 500mm2), which is the ** choice to solve the current domestic big cable problem;
(2) Good corrosion resistance: the material is completely consistent with the cable, which can prevent galvanic corrosion between the wire clamp and the wire;
(3) Simple installation: all kinds of cable clamps can be operated manually on site by hand, without any special tools, and can be completed by one person;
(4) The installation quality is easy to guarantee, the installation quality of the cable clamp is easy to ensure consistency, no special training is required, the naked eye can be inspected, and the appearance is simple and beautiful;