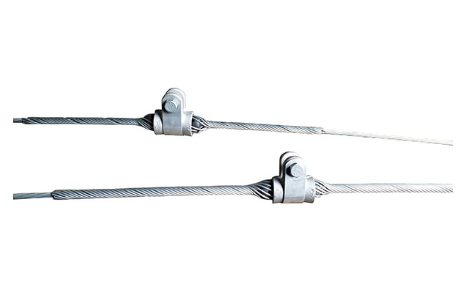 Recently, the uhv project started intensively, exceeding market expectations.

In June alone, the jinbei - jiangsu project and jiuquan - hunan project were launched. State grid plans to approve the construction of 14 "six links and eight lines" in China in 2015, and has started construction on four lines so far.Our company is preformed suspension clamp suppliers.
It needs to be mentioned that with the overall acceleration of uhv construction, the power equipment market will also usher in a huge market.
Industry insiders say that the construction of the global energy Internet will create a market of more than one trillion yuan and will greatly increase the demand for high-end power equipment represented by uhv.
Shanxi's first uhv project started
On June 29, shanxi jinbei - jiangsu nanjing 800 kv HVDC transmission project (hereinafter referred to as "jinbei - jiangsu project") was started.
As a key transmission channel included in the national action plan on air pollution prevention and control, the project will invest 16.2 billion yuan and fully adopt the uhvdc transmission technology and equipment independently developed by China. Jinbei - jiangsu project is another extra-high voltage transmission channel of jindian power after the construction of two extra-high voltage alternating current projects -- mengxi - jinbei - Beijing west - tianjin south, yuheng - jinzhong - shijiazhuang - jinan - weifang.
The project is about 313.8 km long in Shanxi Province, passing through shuozhou, xinzhou, yangquan and jinzhong cities, with a dynamic investment of 6.8 billion yuan. It is planned to be completed and put into operation in September 2017. This is the first uhvdc project in shanxi and the second uhvdc project in jiangsu.
Shanxi is rich in coal, wind and other energy resources and is one of the five comprehensive energy bases identified in the 12th five-year plan. It is estimated that from 2015 to 2020, 15 gigawatts of thermal power and 7.8 gigawatts of wind power and other new energy will be installed in northern shanxi. After completion, it will promote the development and distribution of coal and wind energy resources in shanxi. At present, shanxi has installed 55 million kilowatts of thermal power and 5 million kilowatts of grid-connected wind power.
It needs to be mentioned that at present, the phenomenon of abandoning electric nest is serious in China, and uhv is considered as one of the ways to solve this problem.
Shen meng, executive director of xiangsong capital, told securities daily that uhv can quickly solve regional problems of unbalanced power generation and consumption and improve energy efficiency, which is not only to support economic transformation and upgrading, but also to provide the most powerful support for the realization of commitments on energy conservation and emission reduction.
In addition, with the advancement of energy Internet, uhv also welcomes new development opportunities.
Some securities analysts told the securities daily that the essence of the energy Internet is to reduce the cost of human access to energy. Uhv plays an obvious role in reducing the cost of energy acquisition and is the foundation of building energy Internet. Since this year, the electric power system reform documents and supporting rules have all stressed the need to expand the scope of optimal allocation of power resources, which is exactly the significance of uhv construction.
Electric power equipment will welcome the trillion yuan market
Since this year, uhv project construction has been accelerating.
On June 3, the jiuquan-hunan 800 kv HVDC transmission project (hereinafter referred to as "jiuquan-hunan project"), which passes through gansu, shaanxi, chongqing, hubei and hunan provinces and cities, was officially started. In 2015, the state grid plans to approve the construction of 14 "six direct links and eight direct links" in China. By 2020, we plan to build a "five vertical and five horizontal" uhv power grid in China, with a total of 27 uhv lines.
"Small" skills to "big" results
With the gradual strengthening of environmental protection by the state, the price of packaging is increasing day by day. In order to save production costs, save energy and reduce consumption, chengdu metal tools factory encourages the adoption of new technology and new equipment for the improvement of process equipment. Winding packaging machine is listed as a technical renovation project for investigation. After repeated demonstration and research, the winding packaging machine has been successfully introduced for spacing bar packaging. The equipment is in good condition, which improves the logistics efficiency, reduces the loss in the process of shipment, greatly reduces the packaging cost, and has achieved great results in small technical changes.
The work of the automatic pallet winding machine is to drive the pallet goods to rotate by rotating the turntable, so as to realize the winding and wrapping equipment of the goods. It is suitable for the winding and wrapping of single or multiple small goods, container transportation of bulk goods and pallet winding and packing of bulk goods. Film spacing is adjustable, packaging materials are more economical, rotary table reset, ensure accurate positioning during handling. Photoelectric height measurement, self-dynamic measurement of packaging height, bottom, top of the number of layers and packaging times adjustment is convenient. Overload protection, safe and reliable, simple maintenance, easy to operate.