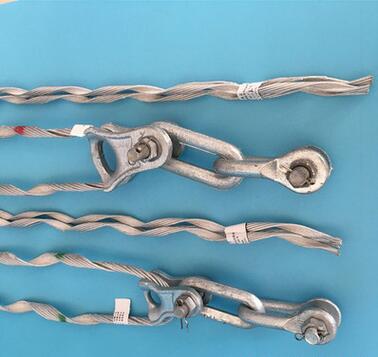 Pre-twisted tension clamp features:
A clip has high strength and reliable grip. The grip strength of the clip is not less than 95% CUTS (the twisted wire calculates the breaking force).
The stress distribution of the twisted wire of the B wire clamp is uniform, and the twisted wire is not damaged, which improves the anti-vibration capability of the twisted wire and greatly prolongs the service life of the wire.we are provide AAAC dead end grip,you can know it.
C Easy to install and easy to construct. It can greatly shorten the construction time and can be operated by one person without any special tools.
The installation quality of the D-clamp is easy to guarantee and can be inspected with the naked eye without special training.
E Corrosion resistance is good, use high quality materials. The material is exactly the same as the wire, ensuring that the clamp has strong resistance to electrochemical corrosion.
Pre-twisted tension clamp clamp installation notes:
The product is a disposable product with special functions. The main part of the product cannot be changed during use. When working on or near the live line, safety should be taken to prevent electric shock. Before installing this product, select the appropriate resistance according to the wire specifications of the line. Tension clip
Products should only be operated by trained and skilled workers, and untrained personnel should not operate; the direction of the clamp should be consistent. The standard tensile clamp is generally right-handed; the tensile strength of the wire and the ground resistance are not mixed.
The company has strong technical force, superb production technology, advanced testing equipment, and perfect scientific management system. Qinjia Electric has always implemented the business philosophy of "integrity management, quality win; focus on development, continuous innovation." excellence. In the new product development, product quality improvement, service quality improvement, human resources investment, spare no effort, forge ahead!
The company has always closely integrated its own interests with the needs of the society, and strives to achieve the corporate mission of "providing a safe, energy-saving, controllable and efficient product for the power system." In the increasingly fierce market competition, brand awareness, reputation and market share have become increasingly leading in China's high-voltage power system field. Over the years, it has been well received by users, welcome to inquire!